Temporomandibular Disorders (TMD) include problems related to structures in and around the temporomandibular joint (TMJ) which is the joint that connects the lower jaw to the base of the skull.  For some patients, TMD involves loud popping, clicking, or crunching sounds when they open or close the jaw joint, but for others it can involve moderate to severe chronic pain.  Pain often is located in front of the ears, but can extend towards the sides of the face, head, or neck.  Some patients struggle to open their jaw wide or have to wiggle their jaw from side to side to open normally.  Others demonstrate no symptoms whatsoever, but are identified by alterations and changes in the way their bite fits.  It is not uncommon for an orthodontist or pediatric dentist to be the first to suspect a TMJ concern.

For years, patients have been advised that TMJ issues are related to clenching or grinding their teeth, or that their symptoms are due primarily to muscle spasm.  We have often thought that a bad bite can lead to a bad jaw joint, so most efforts initially focused on bite correction or nightguard use to address these concerns. 
While muscles can certainly play a role in many TMJ problems, it has become clear through the use of diagnostic imaging that many joint issues are actually due to structural alterations within the joints.  Rather than a bad bite leading to a bad joint, it is possible that a bad joint can lead to a bad bite.
Structural alterations in the joint can be related to trauma, sports injuries, whiplash, and even certain surgeries which result in over-stretching and tearing of structures within the joint.
Before treatment options are considered, it is important to first establish an accurate joint diagnosis if a structurally altered joint is suspected.  Just like any other joint in the body, diagnostic imaging consists of assessments of both the hard and soft tissues within the TMJ.  Cone beam computerized tomography (CBCT) and magnetic resonance imaging (MRI) are both utilized to acquire this necessary information.


With an accurate diagnosis, treatment options can be better tailored to fit a patient's needs.  For some, treatment involves joint surgery to repair or replace damaged structure, but for others, appropriate treatment might include customized splint therapy to minimize forces upon an injured joint and allow for possible adaptation.
If you believe that you may have an injured TMJ, give our office a call to schedule a thorough evaluation.    
Typically, with our TMJ patients, we will begin with a detailed joint history and conduct a thorough examination to assess the joints, muscles, and mechanics of the bite. 
If a joint problem is suspected, we often acquire CBCT imaging at our office, take photographs of the bite, and refer patients to a local imaging center to obtain necessary MRI images.
Once all diagnostic information is obtained, patients will return for a consultation to review findings, discuss prognosis, and determine treatment options.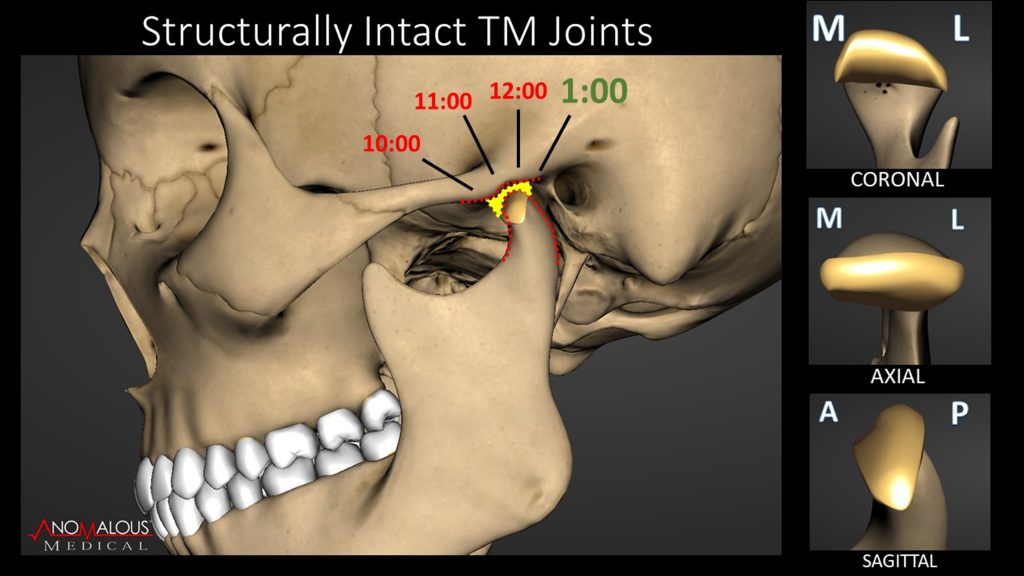 Dr. Lemieux has received advanced training in the diagnosis and treatment of temporomandibular joint disorders from the Piper Education and Research Center, the Pankey Institute for Advanced Dental Education, the Dawson Academy, and Spear Education. He maintains active membership in several joint based study clubs to remain current with emerging concepts and treatments.