We routinely have discussions with patients about the benefits of a nightguard.  The most common reasons for recommending a nightguard include signs of tooth breakdown, TMJ symptoms, or tooth mobility.
Many of these problems stem from teeth that do not properly fit together.  Ideally, when the jaw joints are in their proper position, all of the teeth should touch at the same time with equal intensity.   When the teeth glide from side to side, only the front teeth should contact.  This way, no single tooth bears more force than any other, and the muscles responsible for opening and closing your mouth are allowed to relax.
While many patients seemingly tolerate a bad bite, others show signs of breakdown in the teeth, muscles, and joints which all can be magnified by clenching and grinding.  Typical signs and symptoms include:
Broken or cracked teeth

Facial pain

Loose teeth

Clicking and popping  in the jaw joints

Difficulty opening

Muscle tension in the face, neck, and shoulders

Flat wear marks on teeth

Craze lines

Notching of teeth at the gumline
At our office, we fabricate a polished, rigid acrylic nightguard custom designed to fit either on your upper or lower teeth.  Most patients wear the appliance only at night time, but patients with acute pain problems are advised to wear it more often.  The appliance protects the teeth from the harmful effects of clenching and grinding, allows muscle tension to resolve, and can be a valuable diagnostic tool to determine the cause of facial pain.
Please call our office to learn more or to schedule a consultation.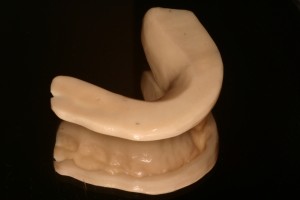 If you have questions about this article, or if you are looking for a dentist in Winter Park, Florida, please call us at (407)644-2700 or visit our website.