If you have trouble sleeping, feel drowsy during the day, or your snoring keeps your spouse awake, you may be suffering from sleep apnea.  Sleep apnea affects people of all age groups and can increase your risk for health issues including hypertension, diabetes, depression, obesity, and even stroke and heart attack.
Sleep studies, under the direction of your primary care physician, are a very good tool to properly diagnose whether you suffer from sleep apnea.  A sleep study can determine if you have sleep apnea, and depending upon how often and long you stop breathing each hour, it can tell you if you have a mild, moderate, or severe case.   A CPAP machine is commonly recommended for moderate and severe cases of sleep apnea.
For mild cases caused by an obstructed airway, a snore guard can offer some relief.  This appliance, made in a dental office, helps to posture your lower jaw forward to keep the base of your tongue from resting against the back of your throat.  While it may not be as effective as a CPAP, a snore guard is an appliance that is cheaper, less cumbersome, and often more comfortable.
If you would like to learn more about how a snore guard can improve your health and give you, and your spouse, a better night's rest, give us a call.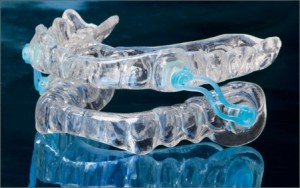 If you have questions about this article, or if you are looking for a dentist in Winter Park, Florida, please call us at (407)644-2700 or visit our website.