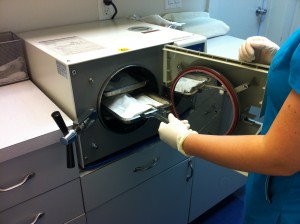 In light of the recent news, it is very unfortunate that a health care provider in Oklahoma appears to have ignored standard practices for infection control and has placed at risk the health of his patients.  We would like to assure you that our office takes your safety and health seriously, and we would like to review some of the steps we take to prevent the spread of disease.
Our office follows recommendations and guidelines established by the Centers for Disease Control which are designed to protect both the patient and dental office staff.  We conduct an annual review of our safety practices which covers our bloodborne pathogens standard, exposure control plan, OSHA hazard communication program, and our biomedical waste plan.
For infection control, we follow standard precautions which is an approach that treats all patients as potentially infectious.  This includes the use of engineering controls such as high volume suction, rubber dams, and sharps containers, and the use of personal protective equipment such as masks, gloves, and protective eyewear.   We wash our hands and change our gloves between each and every patient, and we use disposable needles.
Between patients, our treatment rooms are disinfected and our instruments are ultrasonically cleaned and then placed into either a cold sterilization solution for twelve hours, or into a steam autoclave.  To ensure that our equipment is functioning properly, we use monthly biological monitoring strips and color changing autoclave bags.  Our clean instruments remained bagged until needed for the next patient.
If you would like to learn more about our practices or would like to see our sterilization area, be sure to ask when you visit our office.
If you have questions about this article, or if you are looking for a dentist in Winter Park, Florida, please call us at (407)644-2700 or visit our website.