February is Childre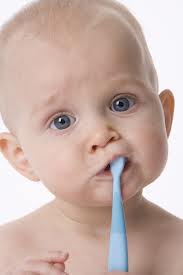 n's Dental Health Month, and one of the most frequent questions we hear from parents is, "When should my child first visit the dentist?"
We advise parents to bring their children for their first evaluation within 6 months after the eruption of the first baby tooth, but no later than age 1. It's our opportunity to develop some positive rapport with your child, show them a few items in the dental office such as the overhead light, our mask and gloves, and "Mr. Thirsty" the suction line, and briefly look into their mouth to evaluate their teeth.
In addition to looking for dental concerns, it is important for us to have a conversation with parents about proper hygiene techniques, hygiene frequency, diet, and helpful oral health care products.
Baby teeth are important… they are essential for eating and speaking, and they hold space for the future eruption of permanent teeth. If your child has healthy teeth and low risk factors for dental problems, we may recommend annual check-ups until their permanent teeth arrive.
Developing good habits at an early age correlates to healthy teeth for a lifetime.
If you have questions about this article, or if you are looking for a dentist in Winter Park, Florida, please call us at (407)644-2700 or visit our website.